Table of Contents
---
Chapter 11

I The Present Energy Economy

II Australian Energy Consumption

III Research And Development

IV Coal

V Oil And Natural Gas

VI Solar Energy
i Research and Development
ii The state of the art
iii Collectors
iv The solar water heating industry
v Industrial applications
vi Swimming pool heating
vii Building heating and cooling
viii Photovoltaics
ix Wind power
x Cooling
xi The International Solar Energy Society

VII Nuclear Energy

VIII Bagasse Firewood And Other Biomass

IX Electric Power Generation And Distribution electric Power Generation And Distribution

X Manufactured Gas

XI Industrial Process Heat

Sources

---
Index
Search
Help
Contact us

Swimming pool heating
The floating plastic cover, which is the most common method of using solar energy to heat domestic pools, was introduced in the 1960s and is still the most cost effective available. Although it actually reduces the amount of radiation entering the pool, this is more than offset by reduction of losses, resulting in a higher water temperature. It is widely used on pools which have no other form of heating and can extend the swimming season for an outdoor pool by a month or two at each end.

In the cooler parts of the country, the pool cover needs to be supplemented with a collector array mounted on a nearby roof and/or an auxiliary heater. During the last 10 or 15 years the demand for more effective solar heating has led to the development of collectors which are designed specifically for pool heating and systems which can be integrated with the filtration equipment are now readily available commercially. The industry has grown to the stage where it is making a useful contribution to the annual total of solar heat generation.

The potential for solar heating of large, enclosed pools which are used year round, has long been realised. Typically these are associated with councils or educational institutions and invariably are gas or oil heated. In 1978 the Victorian Solar Energy Research Committee installed a demonstration installation at the University of Melbourne's Beaurepaire Pool and measured its performance over an 18 month period. It used only proven components, (160 sq m industrial collectors fitted with low iron toughened glass, copper piping, industrial pumps and controllers) and apart from monitoring its performance the maintenance has been negligible. For the 12 months September 1979 to August 1980 the solar contribution was 46 per cent the balance coming from a gas fired boiler. Parasitic power for pumps and controls was 2.4 per cent of the solar contribution. The array is mounted flat on the roof and is invisible from the ground. Pool temperature is 25-27 C.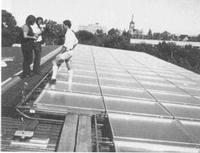 15 160 sq m Collector array for heating the Beaurepaire Centre Swimming pool at the University of Melbourne.
It has shown that the technology is available to design, install and operate large systems whose performance can be accurately predicted. Their cost effectiveness is much more promising than that of the industrial systems mentioned earlier.
---
Organisations in Australian Science at Work - CSIRO; Victorian Solar Energy Research Committee



© 1988 Print Edition pages 809 - 810, Online Edition 2000
Published by Australian Science and Technology Heritage Centre, using the Web Academic Resource Publisher
http://www.austehc.unimelb.edu.au/tia/785.html