Table of Contents
---
Chapter 11

I The Present Energy Economy

II Australian Energy Consumption

III Research And Development

IV Coal

V Oil And Natural Gas

VI Solar Energy
i Research and Development
ii The state of the art
iii Collectors
iv The solar water heating industry
v Industrial applications
vi Swimming pool heating
vii Building heating and cooling
viii Photovoltaics
ix Wind power
x Cooling
xi The International Solar Energy Society

VII Nuclear Energy

VIII Bagasse Firewood And Other Biomass

IX Electric Power Generation And Distribution electric Power Generation And Distribution

X Manufactured Gas

XI Industrial Process Heat

Sources

---
Index
Search
Help
Contact us

Industrial applications
The potential for solar energy in industrial process heating, particularly for food processing, was recognized long ago, but it was not until 1976 that CSIRO, in a joint venture with Diverse Industries, installed the first system at Queanbeyan for can warming in a Coca Cola bottling plant. It was a demonstration plant and was instrumented to measure cumulative radiation on the 77 sq m array (subsequently increased to 94 sq m), heat input from the array to the 20 cu m thermal store, heat from the oil fired hot water boiler and heat to the process. Thermal cost effectiveness is 4.6 Annual MJ/$cost. The instrumentation was simple, reliable and effective, and has been used on later systems to measure cost effectiveness. The system is still operating but its output is now used for a different purpose.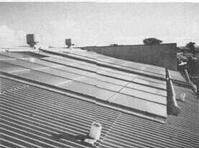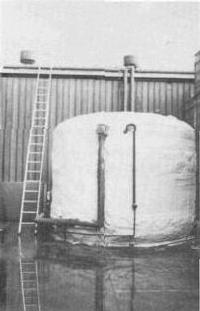 13 & 14 13 and 14 Australia's first industrial solar heating system at Queanbeyan, New South Wales showing roof mounted collectors and insulated concrete 20 cu m thermal storage.
Other installations in the CSIRO programme to demonstrate solar industrial applications were in 1978 for beer pasteurization at the Southwark Brewery in Adelaide, with a 178 sq m array and 52 cu m storage, 4.1 Annual MJ/$cost and a large water heating system at Southern Farmers milk processing plant at Murray Bridge S.A. in 1981 with 181 sq m collector area and 21 cu m storage and 5.5 Annual MJ/$cost.
The payback period for the original investment can be readily calculated if the cost of supplementary fuel and other operating costs are known. The method is described in the Solar Progress article listed in the references. The product (Annual MJ/$ X Fuel cost, $/GJ) needs to exceed about 120 to make installations economically viable. This could come about as a result of a combination of improved technology and higher fuel costs. In the meantime valuable operating experience is being gained in systems such as those described.
---
Organisations in Australian Science at Work - CSIRO; Diverse Industries Pty Ltd



© 1988 Print Edition pages 808 - 809, Online Edition 2000
Published by Australian Science and Technology Heritage Centre, using the Web Academic Resource Publisher
http://www.austehc.unimelb.edu.au/tia/784.html