Table of Contents
---
Chapter 11

I The Present Energy Economy

II Australian Energy Consumption

III Research And Development

IV Coal

V Oil And Natural Gas

VI Solar Energy
i Research and Development
ii The state of the art
iii Collectors
iv The solar water heating industry
v Industrial applications
vi Swimming pool heating
vii Building heating and cooling
viii Photovoltaics
ix Wind power
x Cooling
xi The International Solar Energy Society

VII Nuclear Energy

VIII Bagasse Firewood And Other Biomass

IX Electric Power Generation And Distribution electric Power Generation And Distribution

X Manufactured Gas

XI Industrial Process Heat

Sources

---
Index
Search
Help
Contact us

Photovoltaics
Terrestrial applications for silicon solar cells are steadily increasing in Australia and are providing a market which has led to their local manufacture. Although the local assembly of imported cells into photovoltaic modules was begun in 1975, local manufacture of solar cells in commercial quantities only began in 1981, by the company which is now BP Solar Australia. During 1983 and 1984, Solarex Pty. Ltd. and Philips Industries also began producing cells locally. By 1985, local production had grown to between 0.5-1.0 megawatts (peak) of generating capability per annum, out of a total production world-wide estimated as 20-30 mW (peak) p.a. at that time. Over half the local production was exported.

The first Australian application to become established was for stand-alone power packages for telecommunications and Telecom Australia's pioneering developments in this area have already been referred to. Their first installation in 1974 was the power supply for a VHF subscriber radio terminal requiring about 4 watts load. As cell costs reduced and low power drain radio equipment was developed, it became possible to power major high capacity microwave radio systems with solar cells. The Alice Springs link, installed in 1978, was the first of these.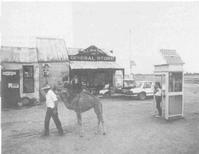 19 Telecom photovoltaic installation for a public phone and radio link at Mundy Mundy Plains near Broken Hill, New South Wales. (Telecom photo)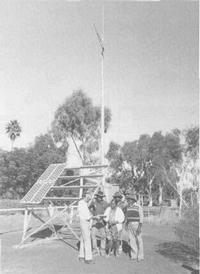 20 Solar powered radio phone at an aboriginal community, Western Australia. (Telecom photo)
Stand-alone photovoltaic power packages are now available for remote homesteads and it is estimated that there are several hundred installations which provide electricity for essential services such as refrigeration, lights, TV, radio and power tools.
The Southern Cross Corporation at Toowoomba now offers its recently developed solar pumps as an alternative to its well established range of windmill pumps. It is an interesting combination because windmills are usually more cost effective where the wind regime is reliable, but there are many places where it is not, yet insolation is high. The inclination of the solar array can be adjusted seasonally to improve performance and the pump can be supplied as a floating unit for drawing water from rivers, dams, and shallow wells.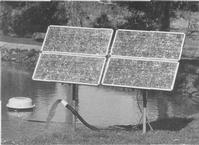 18 Southern Cross Sola Flo 18000 F pump and 140 w photovoltaic array.
Navigation lights and security lighting where mains power is not readily available, increasingly use solar power packages. Solar cell powered refrigerators for storing vaccines and for off-road vehicles are now being made in Australia by Norcoast Refrigeration Co. of Caloundra.
---
Organisations in Australian Science at Work - B.P. Solar Australia; CSIRO; Norcoast Refrigeration Company; Philips Electrical Industries; Solarex Pty Ltd; Telecom Australia (Australian Telecommunications Commission)



© 1988 Print Edition pages 811 - 813, Online Edition 2000
Published by Australian Science and Technology Heritage Centre, using the Web Academic Resource Publisher
http://www.austehc.unimelb.edu.au/tia/787.html