Table of Contents
---
Chapter 11

I The Present Energy Economy

II Australian Energy Consumption

III Research And Development

IV Coal

V Oil And Natural Gas

VI Solar Energy
i Research and Development
ii The state of the art
iii Collectors
iv The solar water heating industry
v Industrial applications
vi Swimming pool heating
vii Building heating and cooling
viii Photovoltaics
ix Wind power
x Cooling
xi The International Solar Energy Society

VII Nuclear Energy

VIII Bagasse Firewood And Other Biomass

IX Electric Power Generation And Distribution electric Power Generation And Distribution

X Manufactured Gas

XI Industrial Process Heat

Sources

---
Index
Search
Help
Contact us

The solar water heating industry
The first report of an Australian domestic solar water heater was an article by Bates in the Cane Growers Quarterly Bulletin of July 1941. It was a description of a system having 20 square feet (1.9 sq m) collector area and 40 gallons (180 1) storage (no auxiliary heating), built and installed by the author at Meringa Station near Cairns, N.Q. He estimated that it would provide hot water for the household for 300 days a year in the N.Q. climate. By modern standards it was primitive and although it created considerable interest there is no record of the number of similar units that were built.

During the period 1954-1964 CSIRO published a series of reports which gave details of the design of collectors and systems, and the results of field tests. They were widely distributed, creating great public and professional interest and led to frequent discussions between manufacturers and researchers, which were effective in transferring the technology around Australia. The most popular reports are listed in the bibliography at the end of the Chapter.

Production of solar water heaters increased steadily during the 60s, and the Australian Government's decision to install these systems in Government owned houses in the Northern Territory gave the then fledgling industry the necessary boost to expand and develop their solar R&D and manufacturing facilities. By 1970 Darwin was well known internationally for its extensive use of solar water heaters for domestic hot water.

The practical development of selective surface coatings by Beasley Industries in conjunction with CSIRO gave Australian manufactures a technological advantage over those overseas, enabling them to export systems and components and to set up licence agreements in a number of countries including Japan, New Zealand, Kenya and India.

S. W. Hart and Co. Ltd. which trades as Solarhart, started making solar water heaters in 1953 and is now Australia's largest manufacturer of these systems. It has exported to 72 countries and has on-going programmes in 40. Over the period 1974-85 the company exported 50,000 units valued at $70 million.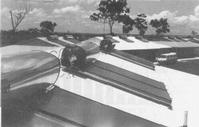 10 Solar water heaters on Northern Territory Housing Commission Units at Palmerston (Solahart photo)
Solarhart pioneered the close coupled mains pressure unit incorporating themosiphon flow between the collectors and the storage cylinder. It is fitted with an electric booster, thermostat and over temperature and pressure relief valve. It could be very easily mounted on the roof of a building and the company built up an efficient marketing and servicing organization based on one or two models. This combination,
supported by good R&D and manufacturing divisions, led to rapid growth, to the point where Solarhart must be considered one of the world's most successful solar water heater manufacturers. When water filled solar collectors are subjected to freezing conditions they can be seriously damaged unless provision is made to ptotect them. This adds to the cost and as most Australians do not have this problem, it was originally thought to be unnecessary to design all systems to be able to withstand such extremes. Experience in the market-place, however, now indicates that this is desirable. Solarhart, in the early 1980s, introduced a completely re-designed close coupled solar water heater incorporating thermosiphon flow of the anti-freeze heat transfer fluid between the absorbers and the jacket surrounding the hot water storage. Its two 2 square metre collectors have black chrome selective surface on steel absorbers, low iron glass covers and are coupled to a vitreous enamel coated 300 litre storage cylinder. Large commercial systems with pumped circulation and automatic controls have been installed in hotels and motels, schools, hospitals and public buildings. One of the more spectacular is at the Yulara tourist resort at Ayers Rock. Built in 1984 it has 3855 square metres of roof mounted collectors which supply some 70 per cent of the resort's hot water and heating needs. They were made by Beasleys, who have also exported collectors for a number of large systems, including the United Nations Block at Nairobi, where a 210 sq m array supplies two 4500 litre storage tanks.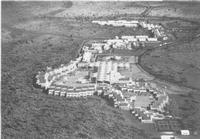 12 View of Yulara Resort showing 3855 sq m of solar collectors for hot water and heating. Also shown are 65 sails, each 10.8 sq m, for shading the main outdoor and indoor function areas. (Beasley photo)
---
Organisations in Australian Science at Work - Beasley Industries Pty Ltd; CSIRO; S. W. Hart and Co. Ltd (Solahart); Solahart; University of New South Wales; Yulara tourist resort, Ayers Rock NT.

People in Bright Sparcs - Bates, G.



© 1988 Print Edition pages 806 - 807, Online Edition 2000
Published by Australian Science and Technology Heritage Centre, using the Web Academic Resource Publisher
http://www.austehc.unimelb.edu.au/tia/782.html