Table of Contents
---
Seventy-Five Years at Willis Island

Preface

Foreword

Chapter 1: Willis Island Today

Chapter 2: Willis Island is Conceived

Chapter 3: Willis Island is Born

Chapter 4: The Early Years

Chapter 5: Life in the 1930s

Chapter 6: Willis Island at War (1941–42)

Chapter 7: After the War

Chapter 8: Willis Island—1960s Style

Chapter 9: The Value of Willis Island

Chapter 10: The Original Inhabitants

Appendix 1: Willis Island Milestones

Appendix 2: Willis Island Officers

Appendix 3: Log of Willis Island Observations, December 1922

Appendix 4: References


---
Index
Search
Help
Contact us

Chapter 2: Willis Island is Conceived

During the early years of this century there were many calls on the Government of the recently formed Commonwealth to provide some sort of early warning against the impact of tropical cyclones on the Queensland coast. The shipping authorities in Queensland were also becoming increasingly worried about the losses and potential losses to shipping.

In 1918, two severe tropical cyclones crossed the coast, one of which devastated Innisfail and the other Mackay. This was probably the turning point as the Minister for Home and Territories was subsequently persuaded to the view that a wireless storm warning station on a Coral Sea island would be of great benefit. During 1920, correspondence between his department and various other departments about how this might be achieved was exchanged.

The following is a precis of the first part of a book Willis Island—A Storm Warning Station in the Coral Sea by Capt J. K. Davis, Director of Navigation at the time. Capt Davis was also one of the officers to serve on Willis during the first tour of duty. The book gives a detailed account of the establishment of the station and his experiences during that first tour.
In June 1921 the launch Mandalay sailing from and returning to Townsville conducted a survey of the Willis and nearby groups of islands. At the time it was thought that hurricanes (as tropical cyclones were then known, still using the European, North Atlantic nomenclature) originated between 8° and 10° south and then travelled southwest to meet the Queensland coast between 15° and 24° south travelling in an arc and eventually moving away to the southeast. Thus it was reasoned a station in this general area could provide the early warning needed. The ensuing report from a Mr Macdonald of the Postmaster General's (Radio Service) stated that the southwest islet of the Willis group would be a suitable site for a radio-telegraph station.

Such a station was subsequently approved by the Federal Government but no action was taken to progress it. In September 1921 a meeting of various departmental heads was convened to form an action plan. After several hours of discussion it was decided that there was insufficient time to prepare for the establishment of a station before the coming hurricane season. The meeting also expressed grave doubts about the safety of anyone left on the Island.

Capt Davis was however convinced that such a station could be ready in time, after all the Commonwealth had labelled its establishment 'Urgent'. He spoke with the Minister for Home and Territories, the Hon A. Poynton and offered to serve as meteorological observer during the first season.

Thus it was that on 1 October 1921 a party of 15 left Melbourne on the Howard Smith steamer Cooma bound for Townsville. There they transferred to the appropriately named steamer Innisfail with 150 tons of cargo, mainly construction materials, and sailed for Willis Island at 3am, 13 October 1921.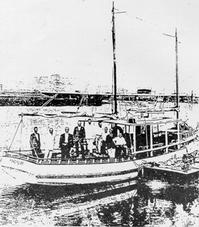 The Mandalay leaving Townsville bound for Willis Island, 1921 (Photogragh courtesy of Cummins and Campbell Monthly Magazine, April 1943)
---
People in Bright Sparcs - Davis, John King


Fletcher, P. 1996 'Seventy-Five Years at Willis Island', Metarch Papers, No. 9 December 1996, Bureau of Meteorology

© Online Edition Australian Science and Technology Heritage Centre and Bureau of Meteorology 2001
Published by Australian Science and Technology Heritage Centre, using the Web Academic Resource Publisher
http://www.austehc.unimelb.edu.au/fam/0604.html