Table of Contents
---
Seventy-Five Years at Willis Island

Preface

Foreword

Chapter 1: Willis Island Today

Chapter 2: Willis Island is Conceived

Chapter 3: Willis Island is Born

Chapter 4: The Early Years

Chapter 5: Life in the 1930s

Chapter 6: Willis Island at War (1941–42)

Chapter 7: After the War

Chapter 8: Willis Island—1960s Style

Chapter 9: The Value of Willis Island

Chapter 10: The Original Inhabitants

Appendix 1: Willis Island Milestones

Appendix 2: Willis Island Officers

Appendix 3: Log of Willis Island Observations, December 1922

Appendix 4: References


---
Index
Search
Help
Contact us

Chapter 10: The Original Inhabitants

Whilst much has been done over the years to make life for staff as comfortable as possible there is one matter which has not been resolved. The annoyance caused by the ubiquitous bird. The greater the number of birds the more discomfort there is. Bird droppings are everywhere and most exposed surfaces soon become covered, even the staff themselves if they remain still for long enough and sometimes when they do not. The other nuisance factor is the continual noise with the various species producing sounds from squawks to screeches.

In spite of this, the original inhabitants of the island, some of whom are permanent and some transitory during their migratory cycle, provide for an interesting study. Over the years many officers have become fascinated by the bird life and some have catalogued them.

It seems the most common regulars are mutton birds, sooty terns and noddy terns. Several species of gannets migrate through the Island including masked, brown and red-legged, and also the lesser frigate bird. Crested terns are also seen to migrate. Single or limited sightings of many other birds have been made over the years. For a fuller listing the reader is referred to either Mark Wilgar's booklet, based on his stay on Willis Island in 1993–94, or to the notes on Willis Island prepared by John Butler, based on his stay in 1966–67. John's notes also include a section on the other original inhabitants—the fish and sea creatures which frequent the waters surrounding the Island.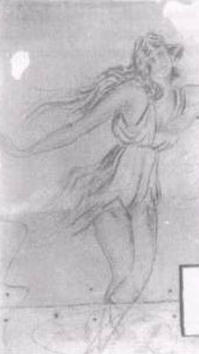 This life-size mural, drawn on a bedroom wall at Willis Island prior to 1927, is certainly not one of the original inhabitants. Although many early visitors may have arrived on Willis Island with dreams of being Robinson Crusoe, clearly, at least one had other dreams. (Photograph courtesy of Eric Riethmuller)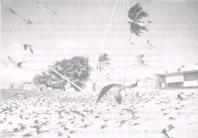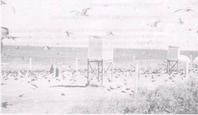 The ever present terns on Willis Island
---
Fletcher, P. 1996 'Seventy-Five Years at Willis Island', Metarch Papers, No. 9 December 1996, Bureau of Meteorology

© Online Edition Australian Science and Technology Heritage Centre and Bureau of Meteorology 2001
Published by Australian Science and Technology Heritage Centre, using the Web Academic Resource Publisher
http://www.austehc.unimelb.edu.au/fam/0615.html