Table of Contents
---
Seventy-Five Years at Willis Island

Preface

Foreword

Chapter 1: Willis Island Today

Chapter 2: Willis Island is Conceived

Chapter 3: Willis Island is Born

Chapter 4: The Early Years

Chapter 5: Life in the 1930s

Chapter 6: Willis Island at War (1941–42)

Chapter 7: After the War

Chapter 8: Willis Island—1960s Style

Chapter 9: The Value of Willis Island

Chapter 10: The Original Inhabitants

Appendix 1: Willis Island Milestones

Appendix 2: Willis Island Officers

Appendix 3: Log of Willis Island Observations, December 1922

Appendix 4: References


---
Index
Search
Help
Contact us

Chapter 9: The Value of Willis Island

Since the weather station on Willis Island was established, observations have helped in detecting or establishing the position, movement or intensity of tropical cyclones. In the early years the basic Willis observations assisted in establishing the existence and intensity of tropical disturbances. In later years, with radiosonde, the structure and a better estimate of intensity have been possible. More recently the weather watch radar has enabled tracking to establish a more accurate movement thus giving a better coastal crossing prediction. Today routine upper air observations from Willis Island during the cyclone season help determine the location, structure and tendency of upper trough systems in the Coral Sea. These are critical to the motion and intensity changes of tropical cyclones.

The following is a sample of the more notable occasions when observations from Willis Island contributed to the tropical cyclone warning service:

Early warnings from Willis Island enabled Cairns residents to take precautions against the severe tropical cyclone of 1927 and 'thus save many thousands of pounds'.


A severe tropical cyclone which caused widespread damage from Cardwell to Townsville on 18 and 19 February 1940 was first detected by observations from Willis Island.


On 8 February 1957, the anemometer measured a gust of 109 knots, a record at that time, heralding the presence of a severe tropical cyclone in the Coral Sea.


Tropical Cyclone Connie, which caused widespread destruction at Bowen, Ayr and Home Hill on 16 February 1959 was first detected using Willis observations.


Observations at Willis Island together with Lihou and Marion Reef Automatic Weather Stations (AWS) were used to locate and calculate the movement of Tropical Cyclone Althea. This cyclone devastated Townsville on 24 December 1971.


In April 1989, severe Tropical Cyclone Aivu passed close to Willis Island enabling ground truthing of satellite position fixes and giving details of its wind structure.


Accurate radar fixes of severe Tropical Cyclones Nina in January 1993 and
Oliver in February the same year were obtained from the Willis Island radar data. This data along with wind and pressure observations from Lihou Reef AWS enabled the mathematical models of the radial wind profiles in the destructive core of severe tropical cyclones to be verified. Since 1991 the addition of weather surveillance radar has greatly enhanced the value of the station for monitoring the development and movement of tropical cyclones. Using the merge facility of the Australian Radar Display System (Rapic) to combine the radar imagery from Willis Island with that of Queensland coastal stations allows the continual tracking of tropical cyclones, and other systems, over the northern Coral Sea out to about 700 kilometres from the coast.

This short list of events alone substantiates the need for the station and justifies the foresight of Capt King and Mr Poynton. However, the station has proved useful in areas other than assistance in tropical cyclone detection and monitoring.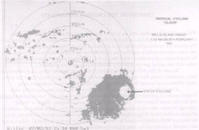 Tropical Cyclone 'Oliver'.
Willis Island observations of 17 December 1989 showed ex-tropical cyclone Felicity 1991 showed hurricane force winds associated with Tropical Cyclone Kelvin, a system that had appeared to be sheared and weak. The data collected from Willis Island in both these events has since been used to identify a certain type of destructive hybrid storm. One of these hybrid storms, Tropical Cyclone Beth, caused widespread damage in the Bundaberg area in 1976 without any warning. This research will help to provide early warning of future similar events.
The observations from Willis Island that have been recorded provide a climatology of a maritime trade wind environment that is of international significance. The continuous record of surface observations since 1921, upper winds since 1927 and upper temperatures since 1960 is more comprehensive than any such maritime record in the world.
---
Fletcher, P. 1996 'Seventy-Five Years at Willis Island', Metarch Papers, No. 9 December 1996, Bureau of Meteorology

© Online Edition Australian Science and Technology Heritage Centre and Bureau of Meteorology 2001
Published by Australian Science and Technology Heritage Centre, using the Web Academic Resource Publisher
http://www.austehc.unimelb.edu.au/fam/0614.html