Table of Contents
---
Seventy-Five Years at Willis Island

Preface

Foreword

Chapter 1: Willis Island Today

Chapter 2: Willis Island is Conceived

Chapter 3: Willis Island is Born

Chapter 4: The Early Years

Chapter 5: Life in the 1930s

Chapter 6: Willis Island at War (1941–42)

Chapter 7: After the War

Chapter 8: Willis Island—1960s Style
Information Provided by Ian McCarthy

Chapter 9: The Value of Willis Island

Chapter 10: The Original Inhabitants

Appendix 1: Willis Island Milestones

Appendix 2: Willis Island Officers

Appendix 3: Log of Willis Island Observations, December 1922

Appendix 4: References


---
Index
Search
Help
Contact us

Chapter 8: Willis Island—1960s Style
Information Provided by Ian McCarthy
As stated previously, progress was slow during this period and as Ian McCarthy states in these recollections, the year 1967 was still 'the good old days'.
The June-December 1967 Willis crew; Roger Peterson, Ian McCarthy, and John Hamilton, were all looking forward to a mid-term airdrop by the RAAF. Thoughts of fresh food and mail were on our minds for several weeks.
The RAAF Neptune bomber duly arrived over the island about mid-morning, and after a couple of circuits, came in from the north on a 'bombing' run. About 500 metres from the northern tip of the island, the bomb bays opened and out came several storpedos which parachuted gently into the water. Bit strange we thought, but probably doing a practice run to gauge the wind. A quick call to the aircraft on the radio, however, confirmed our worst fears. They had missed the island completely with the lot. (How did we win the war!).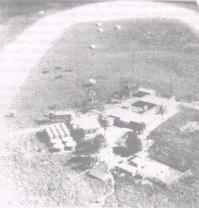 Supply dropping using parachutes.
Apparently the pilot had said to his bomb aimer, 'I'll say now three times, drop it on the third now'. However, someone else in the aircraft who had access to a release button, did not hear this statement and released when he heard the first 'now'. If the storpedos had landed south or east of the island we may have had a chance of retrieving them, but to the north the current took them further away very quickly. There were three very dejected and disappointed men on Willis for the next few days.
[Vic Bahr related another 'bombing story' recently. In 1943, Vic was on a Catalina which had been tasked to resupply Willis Island just before Christmas. The outcome of this airdrop was that the toilet door was demolished by a side of beef— Ed].
1967 was still in the 'good old days' with no radar, no telephone or fax, wind generator power, and only a couple of kerosene fridges and the old coolroom in which to keep perishables. However, we did pioneer a first for modern amenities on that trip. In the few hours we had together in Cairns before the ship sailed, we decided to try an experiment and purchased an old black and white TV set. After settling in, a directional V antenna was run from the top of one radio mast, focused on Townsville. Reception was patchy and depended on the strength of the trade wind inversion. It did prove a point though, and prompted the Bureau into providing for the next trip, a new TV set and a special hi-gain antenna, which improved reception considerably. All seems old fashioned now, with satellite TV and videos standard equipment.
What happened to all those old 16mm films and 12 inch 78 records? There were some real classics amongst them.
---
People in Bright Sparcs - Bahr, Victor John


Fletcher, P. 1996 'Seventy-Five Years at Willis Island', Metarch Papers, No. 9 December 1996, Bureau of Meteorology

© Online Edition Australian Science and Technology Heritage Centre and Bureau of Meteorology 2001
Published by Australian Science and Technology Heritage Centre, using the Web Academic Resource Publisher
http://www.austehc.unimelb.edu.au/fam/0613.html