Table of Contents
---
Seventy-Five Years at Willis Island

Preface

Foreword

Chapter 1: Willis Island Today

Chapter 2: Willis Island is Conceived

Chapter 3: Willis Island is Born

Chapter 4: The Early Years

Chapter 5: Life in the 1930s
Extract from Overseas Telecommunications Veterans Association Newsletter, April 1990

Chapter 6: Willis Island at War (1941–42)

Chapter 7: After the War

Chapter 8: Willis Island—1960s Style

Chapter 9: The Value of Willis Island

Chapter 10: The Original Inhabitants

Appendix 1: Willis Island Milestones

Appendix 2: Willis Island Officers

Appendix 3: Log of Willis Island Observations, December 1922

Appendix 4: References


---
Index
Search
Help
Contact us

Chapter 5: Life in the 1930s
Extract from Overseas Telecommunications Veterans Association Newsletter, April 1990
The Overseas Telecommunications Veterans Association Newsletter dated April 1990 introduced the following extract by stating the 'story would have been in the late 20s or early 30s'. Looking at the list of officers it is easy to tell that the tour of duty was in fact 1932–33. The title of this item is very appropriate for the time. These early staffers were voluntarily marooned. Their food supplies were what they brought with them plus whatever they could produce on the originally barren island; their entertainment was of their own making and their only communications with the rest of the world was a Morse key. They had no means of leaving the island and were thus entirely dependent on being 'rescued' at the end of their tour. Whilst this last fact is still true, today's crews have many more comforts—radio, TV, videos. As this story points out, Willis Island is the most isolated of all Bureau postings—at least in the Antarctic there are many other people, not just one or two.

12 MONTHS MAROONED
(Wireless Men and Dog Life on Willis Island)
After 12 months with no company than that of each other and a cattle dog, Messrs F. Snape and N. Olsen returned to Sydney last week from 12 months life on a deserted island.
These modern Robinson Crusoes are wireless operators in the employ of AWA Ltd, who accepted voluntary marooning on Willis Island in order to supply information to the mainland of Australia regarding the origin of cyclonic storms off the coast of North Queensland. Six times a day they would read the barometer, attached thermometer and screen thermometers. They would take the moisture percentage at sundry hours of the day and at 3pm the solar radiation thermometer was read. This information was sent by wireless to the weather authorities who were thus able to calculate the probabilities of cyclonic disturbances. The information despatched by Messrs Snape and Olsen assisted in the forecasting of the great storm in which the Japanese steamer Kinsen Maru was lost with heavy loss of life last month.
Although the life on Willis Island is lonely, no ship ever passing within sight, there are plenty of volunteers for the wireless men's jobs. The reason is not far to seek—it is impossible to spend any money. There are no picture shows, no hotels, no racecourses, not even a church. When the wireless men step ashore at Sydney, a whole year's salary is at their disposal. While on the island they live on the best, taking with them enormous stores of tinned and other food.
Messrs Snape and Olsen tried the experiment of growing vegetables and succeeded with silver beet, lettuce, cucumbers, beetroot, and tomatoes. Their potatoes were a failure. They discovered, moreover, that the vegetables thrived as well in the sand as when planted in rich river loam, of which they took five bags with them from Brisbane.
The life of the party was Sandy, the cattle dog. Sandy would swim out to sea for 400 yards and, although sharks surround the island in thousands, he was never taken. The wireless men never expected to bring him back, especially on one occasion when his path in the water crossed that of a 10 foot shark, which passed him at a distance of about 6 feet, apparently without noticing him. Sandy had great fun with the turtles which came ashore to lay their eggs. He would try to muster them like sheep until finally they would scatter in all directions and make for the sea.
Sandy amused himself also playing with the innumerable sea birds which inhabit Willis Island, and are as tame as domestic fowls. One bird did not appreciate Sandy's attentions and pierced his eyeball with a needle-like beak. Thereupon the islanders wirelessed to Townsville and obtained from the leading veterinary surgeon instructions which enabled them to save his eyesight.
Their twelve months passed uneventfully, though Mr Olsen while bathing trod on a sea-urchin. For a fortnight he and Mr Snape were picking quills from his heel. The wireless men were brought back to Townsville by the Commonwealth lighthouse steamer, their places being taken by Messrs Alan Hooper and Les Coley, who will represent Amalgamated Wireless in the loneliest outpost of the British Empire for the ensuing twelve months.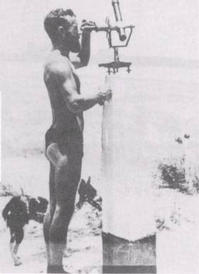 R. McKenzie and Snifter, 1934–35. (Photograph courtesy of Ms B. McKenzie)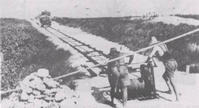 Using a tramway, 1934–35. (Photograph courtesy of Ms B. McKenzie)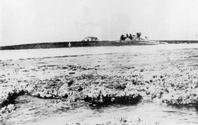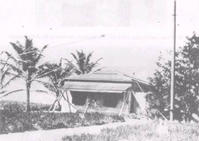 Views in 1934–35. Note the growth of the trees since the establishment of the station in 1921, and note too that Eric Riethmuller, in Chapter 4, has mentioned the coconut palms as being planted and established in 1932 (Photographs courtesy of Ms B. McKenzie)
---
Organisations in Australian Science at Work - Amalgamated Wireless (Australasia) Ltd.


Fletcher, P. 1996 'Seventy-Five Years at Willis Island', Metarch Papers, No. 9 December 1996, Bureau of Meteorology

© Online Edition Australian Science and Technology Heritage Centre and Bureau of Meteorology 2001
Published by Australian Science and Technology Heritage Centre, using the Web Academic Resource Publisher
http://www.austehc.unimelb.edu.au/fam/0610.html