Table of Contents
---
Seventy-Five Years at Willis Island

Preface

Foreword

Chapter 1: Willis Island Today

Chapter 2: Willis Island is Conceived

Chapter 3: Willis Island is Born

Chapter 4: The Early Years

Chapter 5: Life in the 1930s

Chapter 6: Willis Island at War (1941–42)
Information Provided by Bill Smith

Chapter 7: After the War

Chapter 8: Willis Island—1960s Style

Chapter 9: The Value of Willis Island

Chapter 10: The Original Inhabitants

Appendix 1: Willis Island Milestones

Appendix 2: Willis Island Officers

Appendix 3: Log of Willis Island Observations, December 1922

Appendix 4: References


---
Index
Search
Help
Contact us

Chapter 6: Willis Island at War (1941–42)
Information Provided by Bill Smith
As far as can be ascertained there is no-one still alive who served on Willis Island before Bill Smith. He was still 20 years old when he arrived in 1941. By the time Bill was on the island a few of the essentials were beginning to be sorted out. Rainwater was being stored for instance. Observations had progressed to include pilot balloon upper wind observations. Bill has provided the following information.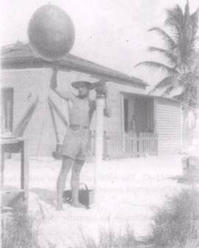 W. T. P. (Bill) Smith about to release a pilot balloon, 1941–42 (Photograph courtesy of W. T. P. Smith)
Paddy Whelan, Chris O'Leary and I stepped ashore on Willis on 18 May 1941—a time when Australia was involved in WWII and the Bureau had just transferred from a Public Service department to the RAAF Met Service.
Paddy, the senior radio operator and station OIC, had spent time previously on the island in 1934–35, but to Chris and myself it was an exciting new adventure. Within weeks of arrival we would celebrate 23rd and 21st birthdays respectively (some years earlier a minimum age of 30 had applied).
We had all met en route at AWA head office Sydney and been briefed on the facilities and conditions on the island, plus details of the stores and equipment etc which would accompany us on the ship. As well, I had received some first-hand advice from Joe Radich (1926–27) and Walter Dwyer (1930–31) during a stopover at the Bureau in Melbourne on my way from Hobart.
A year of isolation lay ahead of us, the only contact with the outside world being the station radio VIQ; even that was limited by wartime censorship restrictions. Later on our personal radio gave out when the batteries failed. Thereafter the station receiver became the sole source of information; coincidentally about the time of Japan's entry into the Pacific war. From there on, our feeling of apprehension and vulnerability grew as Japanese forces began to advance southward [Bill told me in conversation that they later found their fears to be unnecessary. By all accounts, the Japanese had solved their code early in the piece and had preferred to leave the islanders alone, using the observations to their own advantage—Ed].
We were largely dependent on canned food, extensive though it was, once the initial supply of fresh vegetables etc was exhausted. We had no freezer, thus no frozen food, not even a refrigerator until Chris performed a minor miracle in getting the kerosene unit working. This enabled us to enjoy our first ice blocks and cold drinks.
Cooking facilities were fairly basic; a two burner oil stove with a separate oven mounted over the burners. In spite of this we gradually became adept at bread making and limited baking, including cakes and custards, courtesy of an ample supply of eggs from the island's fowls and ducks. Unfortunately the latter had to be disposed of towards the end of the year as a water shortage developed.
The water supply had diminished steadily during the first six months, the first worthwhile rain falling in early November. By then all the smaller tanks were dry or nearly so and the supply remaining was approximately 1500 gallons in the 6000 gallon below ground tank. Should the usual wet season rain fail, that would have to see us through. In the event, substantial rain did not arrive; by March the water level had dropped to 700 gallons, or approximately 100 gallons per week for all our needs for the remaining two months. At this point Paddy notified AWA that the relief party might have to bring fresh water with them. We had by then recorded little more than 10 inches—less than half the previous lowest total of 29 inches, compared with average rainfall for the year May to April of approx 44 inches.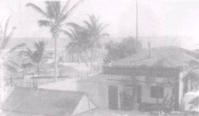 The living quarters, 1941–42. The 6000 gallon water tank is in the foreground (Photograph courtesy of W. T. P. Smith)
Mechanical and instrument maintenance was a never ending task to counter the effects of rust, corrosion and salt spray and deposits on all metal surfaces. This necessitated regular cleaning and the application of paint, grease or red lead as appropriate. Hairsprings snapped without warning and autographic instruments had to be checked and cleaned constantly to ensure continuity of recording. It was not until many years later that I learned just how important those observations and reports were; by early 1942, we were one of only four observing stations in the Pacific—Port Moresby, Vila, Noumea and Willis Island.
Towards the end of our stay the first tangible evidence we had of the proximity of the war was a sharp increase in the level of aerial activity in our vicinity, reinforced by a coded message from the Navy, requesting we maintain a 24 hour watch and report all aircraft and ship movements. As our observations program extended from 0300 to 2100 this was no hardship, although we earnestly hoped that all such reports would notify friendly activity only.
During the period April—May, RAAF and US Air Force aircraft became a common sight and it was not unusual for an enthusiastic pilot to beat up the island at low altitude. It apparently never occurred to any of them that we would have been most grateful to have had an airdrop of fresh meat or other food—even a newspaper would have been welcome. We learned later that all this activity had been associated with events connected with the Coral Sea battle to our north on 4 May.
Prior to that period we had sighted only an occasional single aircraft, plus a solitary distant ship the previous September. These episodes constituted the total of our visual contact with the outside world throughout the year.
Finally, on the morning of 25 May, a RAAF plane circled the island, signalling either '5am' or '5pm' before disappearing westward. It was obvious that our eagerly awaited relief was approaching and being escorted on its way. We had been advised previously 'one month O'Leary's birthday'. That being 25 June, we were confident that 25 May would be the day we were looking forward to.
The Cape Leeuwin duly arrived late afternoon to a very heartfelt welcome and soon afterwards the transfer of the huge quantity of stores from ship to shore, then up the 75 yard train tracks got under way; a repeat of the procedure we had followed upon our arrival.
By early Wednesday 27 May 1942 we handed over our respective responsibilities to Messrs McCaskill and Russell and observer Les Badger and departed for Cairns and civilisation, ending a memorable year.
---
People in Bright Sparcs - Dwyer, Walter Anthony; Smith, Bill


Fletcher, P. 1996 'Seventy-Five Years at Willis Island', Metarch Papers, No. 9 December 1996, Bureau of Meteorology

© Online Edition Australian Science and Technology Heritage Centre and Bureau of Meteorology 2001
Published by Australian Science and Technology Heritage Centre, using the Web Academic Resource Publisher
http://www.austehc.unimelb.edu.au/fam/0611.html