Table of Contents
---
Seventy-Five Years at Willis Island

Preface

Foreword

Chapter 1: Willis Island Today

Chapter 2: Willis Island is Conceived

Chapter 3: Willis Island is Born

Chapter 4: The Early Years

Chapter 5: Life in the 1930s

Chapter 6: Willis Island at War (1941–42)

Chapter 7: After the War
Life on Willis Island 1947–48, by Paul Ruckert

Chapter 8: Willis Island—1960s Style

Chapter 9: The Value of Willis Island

Chapter 10: The Original Inhabitants

Appendix 1: Willis Island Milestones

Appendix 2: Willis Island Officers

Appendix 3: Log of Willis Island Observations, December 1922

Appendix 4: References


---
Index
Search
Help
Contact us

Chapter 7: After the War
Life on Willis Island 1947–48, by Paul Ruckert
The following reminiscences by Paul Ruckert gives us an idea of how things started to develop after the War. By that time it was simply accepted Willis Island would go on providing useful information. Development of facilities was slow but steady as were most things in that era.

LIFE ON WILLIS ISLAND 1947–48
In May 1947 I had just completed 12 months duty at Cloncurry AMO [Airport Meteorological Office—Ed] as an Observer, and, not very impressed with life at Cloncurry, I volunteered for 12 months at Willis Island. There were only two applicants—Don Handcock and myself. Don was 16 months younger than I was, so Head Office decided it was better to select me.
I took the train from Cloncurry to Cairns and met my two companions for the next twelve months—wireless operators Harry Hicks, from Sydney and Frank Bond from Melbourne (OIC) My home town was Brisbane We left for Willis on the Cape Leeuwin and after the usual rough passage on the trade wind swells arrived at Willis two days later. After the lush greenery of Cairns, the first glimpse of Willis Island was a little depressing—dry brown couch grass, 12 coconut palms, a casuarina tree and a tournefortia tree. There was a stench of bird manure on the breeze, and the squawk of hundreds of thousands of sea birds made the ears ring. Willis Island was experiencing a dry spell—only 18 inches of rain in the 12 month period and only brief showers until late in the year.
The stores and supplies were off-loaded by DUKW [amphibious vehicle—Ed] and I surveyed my pile of Met Office stores boxes—daunting to realise that I was solely responsible for the sensible utilisation of those stores—at the tender age of 22! I received a rude shock several months later when, on opening the first of the new season's pilot balloon boxes, the balloons were already 18 months old. They deteriorated steadily in the following months, until I requested from Head Office a calculation of the free lift for an ascent rate of 300 feet per minute instead of 500 feet. Even a reduced free lift failed to prevent the balloons from bursting prematurely and eventually I was forced to abandon pilot balloon flights entirely. Realising the importance of any upper wind information, I commenced a program of pilot balloon theodolite cloud movement observations, using whatever appropriate cloud layers were available—stratocumulus, altocumulus and cirrus. Often all three were visible simultaneously, with assumed heights of bases of 850, 600 or 500, and 300 or 250 hPa.
During the cyclone season I noticed that when cyclones were distantly passing Willis, the direction of movement of the cyclone approximately matched the direction of movement of the cirrus cloud at Willis Island. I mentioned this in my Willis Island 1947/8 Annual Report and as a result an Australia-wide program of pilot balloon theodolite Neph observations of Altocumulus and Cirrus was set up by Head Office.
The first Neph observation of the morning was always sent. Further observations were performed each three hours and if the cloud movements had changed in speed or direction by certain criteria another report was included with the three-hourly surface obs. This program was in operation from 1949 to 1954 inclusive, after which, increasing numbers of 277F and radio theodolite equipment rendered further Neph observations unnecessary.
No cyclones passed closer than about 500km from Willis in my years, indeed the strongest wind gust for the year was 56mph, in a shower squall during the trade wind season. A side effect of the passing cyclones was a tremendous swell on the edge of the reef platform. In once instance, using the theodolite, I calculated that the breaking swells were 30ft in height and the island shuddered, with a noise like distant thunder.
Our life on Willis Island was governed somewhat by consideration of the state of the tide and our routine duties. Fresh meat came with us on the supply vessel but as we had no freezer, just a Hallstrom kerosene refrigerator, the fresh meat lasted a week, after which we had to rely on tinned meat or an occasional rooster. Harry Hicks, one of the wireless operators had spent 1944–45 on Willis Island and showed us how to make fish spears. It was our practice to prowl about the reef platform every low tide and explore the coral pools to catch whatever fish were available—mostly flounder, bluefish, surgeon fish, leather jackets or many varieties, and moray eel. Whatever we caught was immediately cleaned and then cooked within a couple of hours. We never gave any thought to ciguatera poisoning. We had known of it as a rare illness elsewhere in the tropics, but we never experienced any problems eating Willis Island fish. We did, in November, catch and kill a green turtle. We thoroughly enjoyed it, but were mortified by the sight of hundreds of immature eggs, of diminishing size, as we delved deeper into the innards—representing many years of future unborn turtles. We regretfully never sacrificed any more turtles.
We had our fowl run, with a small supply of eggs, but we far preferred the sooty tern eggs—after a few hundred tern eggs had been consumed in about ten weeks when we reverted to hen eggs they seemed bland in taste, by comparison. Our practice was to lay out a square with string 2mx2m and throw away any eggs the terns were squatting on. The terns within the square laid fresh eggs by next day and these we took allowing the terns to then continue their breeding.
Fresh water was a great problem due to the unusually low rainfall in our year. The roof catchment area, of fibre-cement sheeting, was not large, just the living quarters and the radio shack and the water was heavily contaminated with bird droppings indeed the tap water was always cloudy or milky and we had to add some fruit cordial to a glass of water before it was palatable enough to swallow. Needless to say a cup of tea was hardly a delight, neither was a cup of Bushells coffee and chicory essence.
To conserve water we adopted the practice of some previous parties and dispensed with clothing completely. We three spent the entire year completely naked As a result by the end of the year we were deeply tanned and I was nearly as dark as an aborigine. Indeed, during the train trip home from Cairns to Brisbane, I had a train compartment completely to myself. Whenever someone picked up the train en route they would take one glance at me and move on to the next compartment. There was a lengthy coal strike before and during our year. One consequence of this was that our supply of bottled beer failed to materialise and our entire supply of alcoholic beverages for the year consisted of two bottles of brandy 'for medicinal purposes' only. Harry Hicks left his year's supply of cigarettes on the Cairns wharf. Frank Bond and myself were non-smokers so we could not help him out. Harry stretched his last packet of cigarettes to almost two weeks, then bowed to the inevitable.
We tried to make home brew beer but for some reason the brew gave us stomach or abdominal cramps so we abandoned further trials [Ethyl alcohol or Methyl alcohol ?—Ed] Maybe the sub-standard water supply caused some chemical reaction.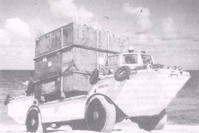 Unloading the wind-finding radar using a LARC, 1968.
---
People in Bright Sparcs - Handcock, Don


Fletcher, P. 1996 'Seventy-Five Years at Willis Island', Metarch Papers, No. 9 December 1996, Bureau of Meteorology

© Online Edition Australian Science and Technology Heritage Centre and Bureau of Meteorology 2001
Published by Australian Science and Technology Heritage Centre, using the Web Academic Resource Publisher
http://www.austehc.unimelb.edu.au/fam/0612.html