Table of Contents
---
Radio Technical Officers

Foreword

Acknowledgements

Preface

Introduction

Chapter 1: The Early Years

Chapter 2: The Training School

Chapter 3: Equipment Installation Records

Chapter 4: The 'Techs' in Antarctica

Chapter 5: The 'Techs' Tell Their Stories
Trevor Donald Tells It All; Life in the Bureau from 1947 to 1989
Ray Clarke Looks Back
Some Memories from Ralph Bulloch
Peter Copland Works in Meteorological Electronics
Some Titbits from Dave Grainger
A Very Modest Tale from Alf Svensson
Adrian Porter Pulls No Punches
Jack Tait Recalls
Some Stories by Colourful Freddie Soutter
Some Snippets from Noel Barrett
Stephen CourbÍt Has His Penny Wworth
And a Flyspeck or Two from Lenny Dawson
Some Interesting Reminiscences from Jannes Keuken
Brief Stories from Phil Black
From Gloria West, Wife of the Late Bob West
The Life and Bureau Times of Graham Linnett
Tales Out of School from Bill Hite
Peter Copland on Cyclone Tracy
Peter Broughton Tells the Story of Maralinga

Appendix 1: 'Techs' Roll Call

Appendix 2: Trainee Intakes

Appendix 3: 'Techs' Who Have Served in the Antarctic Region

Appendix 4: Summary of Major Installation Projects

Appendix 5: Summary of Major Equipment Variously Installed at Sites and Maintained by Radio Technical Officers


---
Index
Search
Help
Contact us

Trevor Donald Tells It All; Life in the Bureau from 1947 to 1989 (continued)
During the next two years, at least in New South Wales, the field Senior Observer (Radio)s began the transition to a purely technical structure. The loss of Senior Observer (Radio)s at Cobar and Wagga combined with the accelerated installations of new equipment necessitated the withdrawal of field Senior Observer (Radio)s to a central pool in Sydney. We were unable to obtain additional technical staff from Head Office and had to recruit and locally train temporary technical staff from within the Region in order to keep all equipment operational. A number of these temporary technicians qualified by examination, became permanent officers and in due course were promoted to senior positions in the maintenance area.

We certainly had our problems but were able to keep abreast with new equipment coming into service throughout the Region. Lex Patterson aided by Bob Brealey spent some time in Sydney running training courses on Muirhead facsimile equipment. When all staff were quite familiar with the range of Muirhead equipment in the Region, Head Office transferred maintenance responsibility from the PMG to Regional maintenance staff. In a similar manner we also took over the maintenance and repair of remote instrumentation (Dines anemograph, Fielden equipment, tipping bucket raingauges, Macleay Valley radio reporting rain gauge system and other items) from DCA.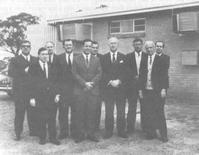 Regional Maintenance Officers' Conference, September 1970. Left to right, Alan Jarman, Duncan Eales, Peter Broughton, Bruce Aubrey, Jack Byrne, not identified, Reg Stout, Trevor Donald, Charlie Holman, Alf West. (Photograph courtesy of Reg Stout)
During the late 1970s we started to receive a new generation of technical staff from the Training School. These young 'techs' had been recruited from high school and received some of their training at the RMIT. The quality of the trainees continued to improve and on graduation they were always abreast of current technology.
I retired in March 1989 after 42 years service with the Bureau and was grateful to have been involved with the technical changes that took place over that period of time. The instrumentation available on field stations today is a far cry from what was available when I carried out my first solo observation at Canberra Airport in late 1947.
During my service as RMO I was fortunate to have excellent technical staff to work alongside and they did a wonderful job in keeping equipment within the Region running smoothly.
In April 1990 I was given the opportunity to visit Saudi Arabia to look at their Plessey 43S radar systems, and I spent about three weeks visiting their various installations. That visit reinforced my views on the high degree of excellence of the Bureau's engineering support groups in Melbourne and also the high degree of efficiency of the Bureau's equipment and stores system in Melbourne.
---
Clarke, R. 1999 'Stories of the Bureau's Radio Technical Officers from 1948', Metarch Papers No. 14 February 1999, Bureau of Meteorology

© Online Edition Australian Science and Technology Heritage Centre and Bureau of Meteorology 2001
Published by Australian Science and Technology Heritage Centre, using the Web Academic Resource Publisher
http://www.austehc.unimelb.edu.au/fam/1195.html