Table of Contents
---
Weather News

Introduction

History

Personal Notes
Mr. B. W. Newman, Deputy Director, Sydney
Mr. G. W. Mackey—Deputy Director, Perth
Mr. J. Johnston—Deputy Director, Hobart
Mr. A. J. Shields—Deputy Director, Brisbane
Mr. B. J. Retallack—Supervising Meteorologist, Training
Mr. J. Hogan—Deputy Director, Adelaide
Mr. F. Bell—Officer-in-Charge, Darwin
Mr. P. Ryan—Officer-in-Charge, Darwin
Bureau Profile #1
Dr. Kevin Spillane: The Quality of Tenacity
Taking the World View [John Zillman]
Fred Bell, the Pilot's Friend
Mildura's Harry Storer
Computers—New ADC [Ross Maine]
H. G. Bond
The Sky is the Limit [Bettye Macnicol / Jenny Hopwood]
Hobart Weather Birds [Judy Morris / Felicity James]
Professional Officers' Association Award to Henry [Phillpot]
New Assistant Director Facilities is Keith Henderson
Tasmania's New Regional Director [Ted Phillips]
New Head for ANMRC [Doug Gauntlett]
Tony Powell New Regional Director Victoria
Lynn Mitchell Takes Over the Reins in SA RO Fillerup!
Pat Sullivan New Regional Director, NSW
Bettye Dixon Heads Canberra Liaison Section
Dr Michael Manton Chief of BMRC
Graeme Furler, Regional Director South Australia
Ian Mason, Regional Director ACT
Regional Director Queensland [Rex Falls]
Don Linforth, STPM
Bob Brook, Asst Director (Observations)
Jim Arthur, Regional Director, Northern Territory
Neil Streten Appointed Deputy Director (Services)
Bill Downey, Assistant Director (Executive)
Antarctic Medal Winners
Agrometeorology's Leading Lady [Gloria Bedson]
Ken Wilson—Focus on the 'Big Picture'
Sue Barrell's 'Balancing Act'
Dr Geoff Love Appointed Deputy Director (Services)
Serendipity at 33,000ft: A Win for Metrology—Bruce Forgan's WMO Vaisala Award
Pressure's On for New NCC Head [Mary Voice]
Bob Leighton Wins AMOS Honor for Climate Studies

Retirements

Obituaries

Observers and Volunteers

Media

Computers


---
Index
Search
Help
Contact us

Professional Officers' Association Award to Henry [Phillpot]
No. 231 Nov/Dec 1975, Item 2847

The Head Office cafeteria proved a highly suitable venue for the presentation of the Professional Officers' Association Award of Merit for 1975 to Henry Phillpot, head of the Bureau's synoptic research section. The occasion was the October quarterly meeting of the POA Victorian branch, and took the form of a dinner, well-attended by about 100.members, with a good turnout of meteorologists on hand to honour Henry. Chairing the meeting was branch vice-president Eric Jesson (physicist in HO), while the presentation was made by the association's general president Mr Don Cameron.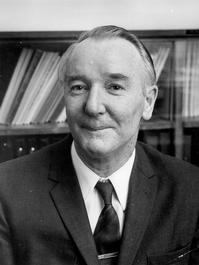 Henry Phillpot
The Award of Merit is given "to bring due recognition by the community to individual members of the Association who, by virtue of the outstanding nature of their contribution to professional work, are clearly deserving of personal recognition".
The rules governing the award require adjudication by an independent authority, and on this occasion the adjudicator was Sir Frederick White, former Chairman of CSIRO.
Henry's is the 20th Award since they started in 1956, and Bureau members in particular were very pleased to see it given to a colleague held in such high esteem and affection. Former Bureau man Harry Treloar, also was a recipient of the Award.
---
People in Bright Sparcs - Phillpot, Henry Robert



© Online Edition Australian Science and Technology Heritage Centre and Bureau of Meteorology 2001
Published by Australian Science and Technology Heritage Centre, using the Web Academic Resource Publisher
http://www.austehc.unimelb.edu.au/fam/1344.html