Neil Streten Appointed Deputy Director (Services)
No. 288 December 1988

Dr Neil Streten, has been promoted to the position of Deputy Director (Services), a post left vacant following the retirement of Bob Crowder earlier this year. Neil was formerly Assistant Director (Executive), a position he had held since 1983.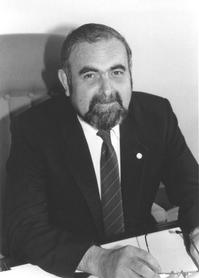 Dr Neil Streten
Neil's Bureau career began in 1951 as a cadet meteorologist in the Brisbane office. His main interests at the time were in the fields of physics and geology and, as he needed financial assistance to obtain his BSc, he applied for a Commonwealth cadetship in surveying or geology. The only cadetships on offer that year were in meteorology or in engineering in the (then) Postmaster-General's Department. Neil's father was at that time a PMG engineer so he decided to apply for meteorology.
After obtaining his BSc from the University of Queensland, Neil completed the Meteorologist course in 1955 and worked in the Tasmanian RO in 1956–57. He spent the period from 1958–66 in the Central Analysis Office (now NMC), apart from a year at Mawson station Antarctica in 1960–61, a brief spell at Maralinga in 1961 and a short period in the Coordination and Planning and General Services Sections in the mid-1960s.
In 1967–68 he visited Alaska as Visiting Scientist to the Geophysical Institute, University of Alaska in Fairbanks, returning there in 1973–74 as Visiting Professor. He spent the major part of 1969–82 in ANMRC (now BMRC) and was awarded a DSc degree by the University of Melbourne for research Carried out during this period.
According to Neil, 'it's difficult to select a few highlights from a time in the Bureau with no real lowlights'. However, he described as rewarding' the research period in ANMRC where he worked on southern hemisphere circulation and climate.
The receipt of the early satellite imagery of the southern hemisphere, and also the northern and southern polar regions, was a breakthrough which enabled 'the first study of these areas from space. It was an exciting time in meteorology and geophysics generally'.
'Things Antarctic' hold a special appeal for Neil. His winter at Mawson plus several subsequent summer voyages hold fond memories, notably a visit to the Amundsen-Scott station at the South Pole during a mini-expedition' to Beardmore South (about 700 km away) as part of an Antarctic Treaty Workshop in January 1985.
Over the years, Neil has held a number of prominent positions related to Antarctic activities, including President of the Commission for Polar Meteorology (four years), member of the Commission (12 years), member of the Executive Committee of the International Association of Meteorology and Atmospheric Physics (four years), and Chairman of the WMO Working Group on Antarctic Meteorology (since 1983).
Neil's fondness for Antarctica is reflected in the name bestowed on the Streten holiday home at Blairgowrie—'Rumdoodle Cottage'—a reminder of Rumdoodle air field located on the ice plateau inland of Mawson.
A further highlight of Neil's career was the opportunity to meet people with similar interests from other parts of the world at international conferences. As part of his duties, Neil believes he was 'very fortunate to have visited every continent and to have met with a wide range of workers in meteorology and other scientific fields'.
Neil sees some 'enormous' challenges in his new role. He believes it is vital to maintain the integrity of the Bureau's services to the public and the integrity of the Bureau's technical people as professional scientists, while at the same time 'responding to the current requirements of Government that we be more entrepreneurial and business-oriented'. According to Neil, the ideal will be to achieve a 'proper balance in these two rather diverse areas'.
He also will place an emphasis on encouraging the development of the scientific aspects of climatology, in addition to the Bureau's forecasting responsibilities.
Neil has enjoyed his 37 years with the Bureau and has a 'great respect' for the people the Bureau has attracted over the years. He regards the trend for Bureau staff to remain with the organisation for many years as 'positive', in an era when it is fashionable to move from place to place. As the opportunity arises, Neil plans to visit each Regional Office, particularly those where he has spent little or no time in the past.
Away from the office Neil enjoys reading, particularly historical and biographical publications, listening to music and, when the outside plant growth threatens to engulf the family home, gardening.
Neil's wife Margaret is Director of Nursing at a small geriatric hospital. His daughter Clare, aged 16, is a Year 10 student who is interested in rowing and photography. Clare received an Honourable Mention for her camera-work at a recent photographic exhibition.
Son Phil, 25, is a finance officer with Barclays Bank. He is also a keen underwater diver and recently spent some time in the Solomon Islands where he made a number of dives to examine wartime shipwrecks.
---
Organisations in Australian Science at Work - Central Analysis Office (CAO); National Meteorological Centre (NMC)

People in Bright Sparcs - Streten, Neil Anthony



© Online Edition Australian Science and Technology Heritage Centre and Bureau of Meteorology 2001
Published by Australian Science and Technology Heritage Centre, using the Web Academic Resource Publisher
http://www.austehc.unimelb.edu.au/fam/1363.html