Jim Arthur, Regional Director, Northern Territory
No. 284 December 1987

Jim Arthur, who has been appointed to the position of Regional Director, Northern Territory, has had experience in a wide range of tasks during his 20-year career with the Bureau.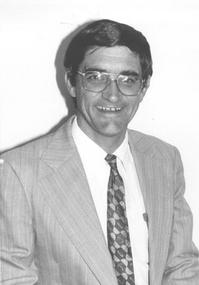 Jim Arthur
Jim, aged 38, has worked in four Regional Offices and had a posting to the RAAF Base at Butterworth, Malaysia, since completing the Meteorologist Training Course in 1971.
Born in Hobart and educated at Hobart High School and the University of Tasmania, Jim joined the Bureau as a cadet in 1968, graduating B Sc in 1970.
His first posting was to Western Australia where he worked in the Regional Office and also at Perth Airport before moving to the Northern Territory in 1973. After a spell in Darwin he went to Alice Springs the following year as OIC of the Met Office, and was the last Meteorologist to occupy that position before the introduction of the RFC system.
Later that year he returned to Darwin and a memorable escape. On 24th December he left Darwin on the 2pm plane to fly south on leave—later that evening the city was being torn apart by cyclone Tracy.
Jim then spent six months in the Bureau's Sydney office while the situation in Darwin returned to normal. Back in Darwin he worked as a Met 2 in the RFC and the Facilities Section.
In 1978 he resigned from the Bureau to work briefly for a private firm in Scotland, providing forecasts for the North Sea oil rigs and the general European area. He rejoined the Bureau in Darwin the following year, and then in 1980 began a four-year term at Butterworth which he describes as one of the most enjoyable periods of his career.
In 1984 he exchanged life in the tropics for the cooler climate of Hobart where he worked in the Special Services Section.
However, Darwin again beckoned and 1985 saw Jim back there as a Met 3 in the RFC. He became involved in the installation of the AROS system and was appointed AROS Manager in Darwin in 1986. He has been acting RD NT since May this year following the departure of Geoff Love for Canberra and later Head Office.
Away from the office Jim is undertaking studies for a Diploma of Computing Science at the Darwin Institute of Technology
Jim is a former A Grade squash and tennis player, but restricts his sporting activities these days to social tennis and the occasional fishing trip with his wife Nuen, whom he acknowledges as the expert. They have three children, two girls aged 17 and 2, and a boy 6.
---
People in Bright Sparcs - Arthur, Jim



© Online Edition Australian Science and Technology Heritage Centre and Bureau of Meteorology 2001
Published by Australian Science and Technology Heritage Centre, using the Web Academic Resource Publisher
http://www.austehc.unimelb.edu.au/fam/1362.html