Table of Contents
---
Chapter 7

I The First 100 Years 1788-1888

II Railways

III Motorised Vehicles
i Trucks
ii Truck Manufacturing
iii Road Trains
iv The Diesel Electric Ore Trucks
v Buses and Coaches

IV Aviation

V Modern Shipping

VI Innovative Small Craft

VII Conclusion

VIII Acknowledgements

IX Contributors

References

---
Index
Search
Help
Contact us

Motorised Vehicles (continued)

The Holden car and its siblings became popular as the Australian family car and for two decades dominated fleet sales and government purchases. It was, in a way, the real successor to the model T Ford as a robust and economical means of transport for all and with service parts in every garage across the country. The price of the Holden was set below its competitors; it enjoyed popular success and came to be seen as a demonstration of an Australian manufacturing achievement. Export of Holdens followed domestic acceptance and regular model changes maintained its competitiveness (Fig. 20).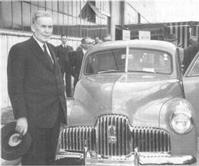 20 The first all-Australian car -FJ Holden pictures with the Prime Minister the Rt. Hon J. B. Chifley
From an Australian automobile industry point of view the advent of the Holden marked the end of an era where component suppliers to the motor car companies were general engineering companies who made parts in batches as required. G.M.H. management must be credited with demanding of their suppliers a level of technical expertise, a recognition of specification requirements and quality procedures which vastly upgraded the supplier industry to the benefit of all manufacturing industry.
Consideration of automotive innovation in Australia would be incomplete without acknowledgement of the work of Sir Lawrence Hartnett who, as Managing Director of General Motors Holdens, and later in his own right, held to the view that Australia should have its own car. The Holden project was successful but additional attempts by him to manufacture the Gregoire designed Hartnett, a Lloyd 600 variant the Lloyd Hartnett and a Datsun 6 cylinder were never able to be marketed commercially. Nevertheless, Larry Hartnett's continued faith in Australia car manufacture was pivotal in fathering the Australian Holden and his continued support of local manufacture was influential in establishing a 'can do' attitude in the industry.
Following the success of the Holden car, other manufacturers, namely Ford, Chrysler, Volkswagen and later British Motor Corporation decided to produce cars locally. These developments reflected a rapidly increasing market due to population growth and rising incomes; new registrations of passenger vehicles averaged 74,000 in the three years 1948-50, increasing to 160,000 1955-57 and to 302,000 1962-64. Between 1954-55 and 1964-65 employment grew from 48,000 to 81,000—an increase of 68 per cent, compared with 23 per cent for manufacturing as a whole.[18]
During the last decade, a number of modifications to the Motor Car Plans have been introduced by the Australian Government in various attempts to maintain a significant manufacturing base. These plans have also contained provision to encourage greater productivity in local production by permitting some imports of mainly Japanese vehicles to introduce a competitive element.
Import of Japanese vehicles in volume commenced in 1960, when they registered only 0.1 per cent of market share for all makes. Since that time the smaller Japanese cars and trucks have captured an increasing share of the Australian market with good quality, highly specified, well priced products.
---
Organisations in Australian Science at Work - Ford Motor Company of Australia; General Motors Holden; Volkswagen

People in Bright Sparcs - Hartnett, Sir Lawrence J.



© 1988 Print Edition pages 494 - 495, Online Edition 2000
Published by Australian Science and Technology Heritage Centre, using the Web Academic Resource Publisher
http://www.austehc.unimelb.edu.au/tia/486.html