Table of Contents
---
Chapter 6

I Construction During The Settlement Years

II The Use Of Timber As A Structural Material

III Structural Steel

IV Concrete Technology

V Housing

VI Industrialised Pre-cast Concrete Housing

VII Ports And Harbours

VIII Roads

IX Heavy Foundations

X Bridges

XI Sewerage

XII Water Engineering

XIII Railways
i Factors Impeding Developments
ii Railway Sleepers
iii Rail Tracks
iv Some Interesting Railway Projects
v Tarcoola-Alice Springs Railway
vi The Conversion to Standard Gauge
vii Railways in the Pilbara
viii Railways in the Coal Fields of Queensland
ix The Melbourne Underground Railway Loop

XIV Major Buildings

XV Airports

XVI Thermal Power Stations

XVII Materials Handling

XVIII Oil Industry

XIX The Snowy Mountains Scheme

XX The Sydney Opera House

XXI The Sydney Harbour Bridge

XXII Hamersley Iron

XXIII North West Shelf

Sources and References

---
Index
Search
Help
Contact us

Railway Sleepers
Railway sleepers have undergone a dramatic change since the first sleepers were used. Granite blocks at intervals were used under Stephenson's Rocket, but it soon became apparent that they would not hold gauge in pliable soils. They gave way to sawn timber sleepers, eventually to reinforced concrete, pre-stressed concrete, and steel, as materials developed and economics demanded longer life and maintenance-reduced systems. The 'double sleeper' floating track structure used in the Melbourne Underground Rail Loop has successfully solved the problem of ground transmitted noise and vibration. This most modern type of sleeper, however, is for special use and not appropriate for mainline routes.

Fig. 44 shows the use of acoustic pods and shows their position in the running tunnels, and also gives a good view of the double sleepers, and the fixing of the rail to sleeper.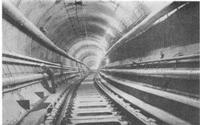 44 Pods in circular running tunnel and position of acoustic pods and double sleepers with their track-fixing devices
From the 1970s on research on railway tracks has tended to study component parts as elements of an entire system, from vehicle bogey suspension through wheel/rail contact to rail/sleeper/sub base interaction. Within this research environment, sleepers for special requirements such as valuation attenuation for the suppression of noise in built up areas have been developed.
---
People in Bright Sparcs - Connell, J. W.



© 1988 Print Edition pages 375 - 376, Online Edition 2000
Published by Australian Science and Technology Heritage Centre, using the Web Academic Resource Publisher
http://www.austehc.unimelb.edu.au/tia/376.html