Table of Contents
---
Chapter 6

I Construction During The Settlement Years

II The Use Of Timber As A Structural Material

III Structural Steel

IV Concrete Technology

V Housing

VI Industrialised Pre-cast Concrete Housing

VII Ports And Harbours

VIII Roads

IX Heavy Foundations

X Bridges

XI Sewerage

XII Water Engineering

XIII Railways
i Factors Impeding Developments
ii Railway Sleepers
iii Rail Tracks
iv Some Interesting Railway Projects
v Tarcoola-Alice Springs Railway
vi The Conversion to Standard Gauge
vii Railways in the Pilbara
viii Railways in the Coal Fields of Queensland
ix The Melbourne Underground Railway Loop

XIV Major Buildings

XV Airports

XVI Thermal Power Stations

XVII Materials Handling

XVIII Oil Industry

XIX The Snowy Mountains Scheme

XX The Sydney Opera House

XXI The Sydney Harbour Bridge

XXII Hamersley Iron

XXIII North West Shelf

Sources and References

---
Index
Search
Help
Contact us

Some Interesting Railway Projects
The construction of the early railways quite often followed the initial routes of the explorers very closely. A typical example was the crossing of the Blue Mountains from Sydney through to Bathurst in 1876. This route roughly followed the path which, in 1813, was taken by the explorers Blaxland Wentworth and Lawson. The design and construction of this spectacular crossing, Fig. 45 known as the Great Zig Zag in the Blue Mountains, was at that time Australia's greatest engineering achievement. It represented a great triumph for concept, perseverance and engineering competence by the Engineer-in-Chief of the New South Wales Railways, Mr. John Whitton. He held that office with distinction from 1857 to 1889.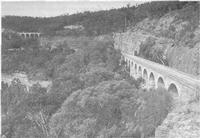 45 Great Zig Zag Railway
The original concept of this crossing envisaged a tunnel of three kilometres in length, but a lack of tunnelling skills lead Whitton to adopt the Great Zig Zag concept for descent into Lithgow on the western side of the Blue Mountains. It swept back and forth over eight kilometres on continuous 2.4 per cent grades. The major construction contract for the Zig Zag and its approaches, let to Mr. P. Higgins in 1866, was for 22 kilometres of line and three tunnels, seven stone viaducts and nearly one million cubic metres of excavation. Then in Central Australia, less than 20 years after the explorations of Burke and Wills, the first sections of the Central Australian Railway system were constructed, from Port Augusta to Hergott Springs and from Port Augusta to Quorn. These two sections were each opened in 1879. This line was extended to Oodnadatta in 1891 and the total length of it at that time was 765 kilometres, it was of 1,067 mm gauge and crossed the Flinders Ranges twice, through the Pitchy Ritchi Pass near Port Augusta and again north of Hawker. The Pitchy Ritchi section is notable for some significant examples of dry stone retaining walls, which were built by Chinese labour.
Another interesting early railway construction project was the Trans-Australian Link to Western Australia, which was completed in 1917. Since there were no physical obstacles, not even a single running stream, there were very few technical problems. Since this line crossed 680 kilometres of uninhabited treeless desert, however, there were most certainly significant other challenges -challenges of logistics and the problems with labour, with several thousand men living and working in desert conditions remote from established towns. It was built mainly by men and animal power, supported by 250 camels, a few steam shovels and the first track-laying machine to be used in Australia. Track laying rates of up to four kilometres a day were achieved.
---
Organisations in Australian Science at Work - Trans Australia Railway

People in Bright Sparcs - Connell, J. W.; Higgins, P.; Whitton, John



© 1988 Print Edition pages 376 - 377, Online Edition 2000
Published by Australian Science and Technology Heritage Centre, using the Web Academic Resource Publisher
http://www.austehc.unimelb.edu.au/tia/378.html