Table of Contents
---
Chapter 6

I Construction During The Settlement Years

II The Use Of Timber As A Structural Material

III Structural Steel

IV Concrete Technology

V Housing

VI Industrialised Pre-cast Concrete Housing

VII Ports And Harbours

VIII Roads

IX Heavy Foundations

X Bridges

XI Sewerage

XII Water Engineering

XIII Railways
i Factors Impeding Developments
ii Railway Sleepers
iii Rail Tracks
iv Some Interesting Railway Projects
v Tarcoola-Alice Springs Railway
vi The Conversion to Standard Gauge
vii Railways in the Pilbara
viii Railways in the Coal Fields of Queensland
ix The Melbourne Underground Railway Loop

XIV Major Buildings

XV Airports

XVI Thermal Power Stations

XVII Materials Handling

XVIII Oil Industry

XIX The Snowy Mountains Scheme

XX The Sydney Opera House

XXI The Sydney Harbour Bridge

XXII Hamersley Iron

XXIII North West Shelf

Sources and References

---
Index
Search
Help
Contact us

Railways in the Pilbara
The Hamersley Iron project (see p. 376) has been described as 'an efficient heavy railway system with a mine at one end and a port-handling facility at the other'. Indeed it was the necessity of handling, at economic rates, large volumes of iron ore across rugged country in the harsh hot dry climate which was responsible for the application of such significant human resources, to the research, design, construction, maintenance and operation of the railway systems. Fig. 46 illustrates the railway workshop at Hamersley Iron.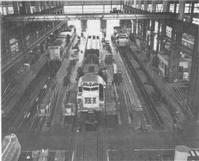 46 Hamersley Iron's railway workshops at Dampier: In 1984 a total of 53.4 million tonnes of ore was handled.
Initially, in the early 1960s, much of the technology was acquired from the U.S.A., but with experience and local research, Australian engineers in the 1980s introduced technology which established them as world leaders in the state of the art in the field of heavy railway engineering. The first Heavy Haul Railways Conference held in Perth in 1978, attracted world-wide interest and confirmed the pre-eminence of Australian engineers. The Hamersley Iron and Mt. Newman projects each handle approximately 50 mtpa which, between them, represents a gross tonnage equivalent to the combined capacity of all other railways in Australia. The significant developments have been in the size of the motive power units, train lengths, axle weights and quality of the tracks.
---
Organisations in Australian Science at Work - Hamersley Iron

People in Bright Sparcs - Connell, J. W.



© 1988 Print Edition page 380, Online Edition 2000
Published by Australian Science and Technology Heritage Centre, using the Web Academic Resource Publisher
http://www.austehc.unimelb.edu.au/tia/381.html