Table of Contents
---
Chapter 6

I Construction During The Settlement Years

II The Use Of Timber As A Structural Material

III Structural Steel

IV Concrete Technology

V Housing

VI Industrialised Pre-cast Concrete Housing

VII Ports And Harbours

VIII Roads

IX Heavy Foundations

X Bridges

XI Sewerage

XII Water Engineering

XIII Railways
i Factors Impeding Developments
ii Railway Sleepers
iii Rail Tracks
iv Some Interesting Railway Projects
v Tarcoola-Alice Springs Railway
vi The Conversion to Standard Gauge
vii Railways in the Pilbara
viii Railways in the Coal Fields of Queensland
ix The Melbourne Underground Railway Loop

XIV Major Buildings

XV Airports

XVI Thermal Power Stations

XVII Materials Handling

XVIII Oil Industry

XIX The Snowy Mountains Scheme

XX The Sydney Opera House

XXI The Sydney Harbour Bridge

XXII Hamersley Iron

XXIII North West Shelf

Sources and References

---
Index
Search
Help
Contact us

The Melbourne Underground Railway Loop
This project has embodied several major advances in technology, particularly in the trackwork, signalling and noise/vibration mitigation areas. The 'double sleeper' floating track structure used in the Melbourne Underground Rail Loop has successfully solved the problem of ground transmitted noise and vibration, and the accoustic treatment of the running tunnels has dramatically reduced noise levels imposed on train travellers, so that comfortable conversation is possible in the trains. (See Chapter 7). A fully integrated signals and communication system, a train describer, and full controls and monitoring are provided, not only for the underground sections of the railway, but also for the inner city sections of the surface lines.

A most interesting engineering solution to a difficult tunnelling problem occurred at the site of Flagstaff Station. The problem was a geo-technical one, where the existence of a layer of silty clay, between the overlaying basalt and the weathered silurian red-rock, precluded the construction of the lower and upper platforms in four separately driven tunnels of psuedo-elliptical shape, as was done in Parliament Station. The existence of this weak compressible band of silty clay, some three metres thick, varied in location between the crown of the lower tunnels and the invert of the upper tunnels, including the vulnerable horizontal pillar between the two tunnels.

An unusual scheme was worked out, whereby only the bottom and top drifts (or small tunnels) for the walls were driven and a series of one metre diameter concrete columns, at three metre centres, were constructed by raise-boring between the upper and bottom drifts, as shown diagrammatically in Fig. 47. These columns, when concreted into the upper and bottom drifts, achieved the purpose of by-passing the compressible weak layer for vertical loads when the arch crown was taken over. This system was repeated for the other two platforms. The excavation then became a straightforward problem, being taken down from the top and cross strutted with temporary struts until the final structure was in place.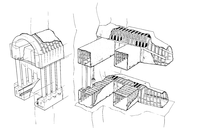 47 Upper and bottom drifts and construction of columns by raise bore method, Fagstaff Station, Melbourne
---
People in Bright Sparcs - Connell, J. W.



© 1988 Print Edition page 381, Online Edition 2000
Published by Australian Science and Technology Heritage Centre, using the Web Academic Resource Publisher
http://www.austehc.unimelb.edu.au/tia/383.html