Table of Contents
---
Memories of the Bureau, 1946 to 1962

Foreword

Terminology

Prologue

Preface

Chapter 1: The Warren Years, 1946 to 1950

Chapter 2: International Meteorology

Chapter 3: The Timcke Years, 1950 to 1955

Chapter 4: A Year at the Massachusetts Institute of Technology

Chapter 5: The Dwyer Years, 1955 to 1962
Leonard Joseph Dwyer—A Complex Character
Reorganising the Bureau
Public Weather Services
Forecasts for the General Public
Importance of Radio Stations
The Advent of Television
Automatic Telephone Forecast Service
Beacons
Wording and Verification of Forecasts
Warnings
Services for Aviation
Atomic Weapons Tests
Atomic Weapons Tests—Mosaic G1 and G2
Atomic Weapons Tests—Buffalo 1, 2, 3 and 4
Atomic Weapons Tests—Operations Antler, 2 and 3
Atomic Weapons Tests—Minor Trials
Instruments and Observations
Radiosondes
Radar/Radio Winds and Radar Weather Watch
Automatic Weather Stations
Sferics
Meteorological Satellites
Telecommunications
Tropical Cyclones
Bureau Conference on Tropical Cyclones
International Symposium on Tropical Cyclones, Brisbane
Hydrometeorology
Design of Water Storages, Etc
Flood Forecasting
Cloud Seeding
Reduction of Evaporation
Rain Seminar
Cloud Physics
Fire Weather
Research and Special Investigations
International Activities
The International Geophysical Year
The Antarctic and Southern Ocean
International Symposium on Antarctic Meteorology
International Antarctic Analysis Centre
ADP, EDP and Computers
Training
Publications
Management Conference
Services Conference
CSIRO and the Universities
Achievements of the Dwyer Years

Chapter 6: A Springboard for the Future

Appendix 1: References

Appendix 2: Reports, Papers, Manuscripts

Appendix 3: Milestones

Appendix 4: Acknowledgements

Appendix 5: Summary by H. N. Warren of the Operation of the Meteorological Section of Allied Air Headquarters, Brisbane, 1942–45

Endnotes

---
Index
Search
Help
Contact us

The Advent of Television (continued)
In Melbourne the team of Gordon Hunter, Tony Powell, Arthur Woolcock and Geoff Tyler made a magnificent contribution in putting a human face to the public notion of Bureau forecasters. Newspaper cartoons had often ridiculed the forecasters, representing them as wispy haired rotund elderly men with their arm extended out of a window of their office to see if it were raining. All of the Bureau presenters, like those in Sydney, were healthy young men with a fine sense of humour. They quickly attracted a devoted band of regular viewers, many female, who enjoyed their personalities as well as the material they presented. Mothers would decide what clothes their children should wear to school, families would plan recreational activities, construction workers and supervisors would consider plans for weather sensitive projects such as the pouring of concrete and many people with a keen interest in the atmosphere and its ways gained much knowledge from regular viewing.

In the other States ABC and commercial TV stations employed their own weather presenters who used documentation and briefing provided by the Divisional Office forecasters. In many cases the presenters were beautiful young ladies, some of whom had been Miss Australia winners, whose understanding of the material they were presenting often did not match their good looks.

Item No 362 in Weather News No 51 of October 1960 reported that the Melbourne commercial stations HSV 7 and GTV 9 were dissatisfied with the presentation of their specialist 'weather girls' and 'weather men'. Channel 9 had tried a system in which charts and other information supplied by the Bureau appeared on the television screen while a Bureau forecaster, on direct telephone line from the Bureau, gave a 'voice-over' but this was not successful.

The ABC decided to replace the TV presentation by Bureau forecasters at its Sydney and Melbourne stations by staff of its rural department from 1 July 1961. This caused a flood of letters appearing in the Melbourne Age newspaper expressing viewers' dissatisfaction.

Melbourne commercial station HSV 7, realising that the former ABC TV weather presentation had a wide following, came to an arrangement with the Bureau for its Melbourne forecasters to present the weather segments on HSV 7. The publicity generated by this development is reflected in the cartoon featuring the Bureau's presenters which appeared in the Melbourne Herald newspaper. Bob Crowder and Peter Shaw had joined the team of Bureau presenters on ABC TV, replacing Tony Powell and Geoff Tyler and it was the team of Crowder, Hunter, Shaw and Woolcock who appeared on HSV 7 in Melbourne.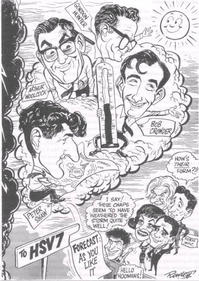 Figure 28 Bureau forecasters appeared on ABC television in Sydney and Melbourne, Allan Rainbird making the first segment in Sydney in September 1956. In July 1961 the commercial HSV 7 TV station in Melbourne secured Len Dwyer's agreement that Bureau forecasters Bob Crowder, Gordon Hunter, Peter Shaw and Arthur Woolcock should present weather segments.
Their switch to the commercial station gave the Bureau a much wider audience than before and each made his own special contribution. I will tell of Bob Crowder's experience, not because he was the more expert forecaster but because his whimsical (and almost winsome) expression had a special appeal for listeners.
---
People in Bright Sparcs - Crowder, Robert Bernard; Dwyer, Leonard Joseph; Powell, Frank Anthony (Tony); Shaw, Peter


Gibbs, W. J. 1999 'A Very Special Family: Memories of the Bureau of Meteorology 1946 to 1962', Metarch Papers, No. 13 May 1999, Bureau of Meteorology

© Online Edition Australian Science and Technology Heritage Centre and Bureau of Meteorology 2001
Published by Australian Science and Technology Heritage Centre, using the Web Academic Resource Publisher
http://www.austehc.unimelb.edu.au/fam/1029.html