Table of Contents
---
Memories of the Bureau, 1946 to 1962

Foreword

Terminology

Prologue

Preface

Chapter 1: The Warren Years, 1946 to 1950

Chapter 2: International Meteorology

Chapter 3: The Timcke Years, 1950 to 1955

Chapter 4: A Year at the Massachusetts Institute of Technology

Chapter 5: The Dwyer Years, 1955 to 1962
Leonard Joseph Dwyer—A Complex Character
Reorganising the Bureau
Public Weather Services
Forecasts for the General Public
Importance of Radio Stations
The Advent of Television
Automatic Telephone Forecast Service
Beacons
Wording and Verification of Forecasts
Warnings
Services for Aviation
Atomic Weapons Tests
Atomic Weapons Tests—Mosaic G1 and G2
Atomic Weapons Tests—Buffalo 1, 2, 3 and 4
Atomic Weapons Tests—Operations Antler, 2 and 3
Atomic Weapons Tests—Minor Trials
Instruments and Observations
Radiosondes
Radar/Radio Winds and Radar Weather Watch
Automatic Weather Stations
Sferics
Meteorological Satellites
Telecommunications
Tropical Cyclones
Bureau Conference on Tropical Cyclones
International Symposium on Tropical Cyclones, Brisbane
Hydrometeorology
Design of Water Storages, Etc
Flood Forecasting
Cloud Seeding
Reduction of Evaporation
Rain Seminar
Cloud Physics
Fire Weather
Research and Special Investigations
International Activities
The International Geophysical Year
The Antarctic and Southern Ocean
International Symposium on Antarctic Meteorology
International Antarctic Analysis Centre
ADP, EDP and Computers
Training
Publications
Management Conference
Services Conference
CSIRO and the Universities
Achievements of the Dwyer Years

Chapter 6: A Springboard for the Future

Appendix 1: References

Appendix 2: Reports, Papers, Manuscripts

Appendix 3: Milestones

Appendix 4: Acknowledgements

Appendix 5: Summary by H. N. Warren of the Operation of the Meteorological Section of Allied Air Headquarters, Brisbane, 1942–45

Endnotes

---
Index
Search
Help
Contact us

International Symposium on Tropical Cyclones, Brisbane
Len Dwyer had obviously won the confidence of the Minister for the Interior, Allen Fairhall and the Permanent Head of his Department for they were happy to support his proposal to follow the Bureau conference on tropical cyclones with an international symposium on the same subject held in the Department of Physics, University of Queensland, Brisbane, from 10 to 14 September 1956.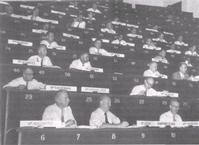 Figure 31 Some of the participants at the Tropical Cyclone Symposium, Brisbane, 10–14 September, 1956. Front two rows are Bureau identities, third, fourth and fifth rows are overseas participants.
There were 28 Bureau participants, 22 from other Australian institutions and 18 from overseas. Many of the participants of the Bureau conference on tropical cyclones in September 1955 also participated in the symposium. Other Bureau participants were H. T. Ashton, H. W. A. N. Brann, W. A. Dwyer, G. S. Goodman, J. Hogan, J. N. McRae, G. O'Mahony, A. F. Rainbird, G. T. Rutherford, H. E. Whittingham and W. R. Wilkie.
Other Australian participants came from the Australian Institute of Navigation (Cowan and Hilder), CSIRO (Berson, Bigg and Priestley), DCA, RAAF, RAN, Snowy Mountains Hydroelectric Authority (SMHEA) (Kraus), and universities (Uwe Radok, Prof H. C. Webster, P. S. Upton and Jack Wiesner).
Overseas participants included three invited experts, Herbert Riehl of the University of Chicago, Eric Palmen of the University of Helsinki and Colin Ramage of the University of Hawaii. Other overseas participants included Commander N. Brango and Commander D. Rex (US Navy), Dr R. Fletcher and Colonel Jamison (US Air Force), John Gabites and J. A. Hunter (NZ Meteorological Service) and members of the meteorological services of Burma, New Caledonia, Portuguese Timor and Thailand.
As had been the case with the organisation of the Bureau conference on tropical cyclones in the previous year, Len Dwyer gave me the responsibility of organising the program and designated me as chairman of the symposium.
---
People in Bright Sparcs - Ashton, Henry Tamblyn (Harry); Brann, Harold Walter Allen Neale (Bill); Dwyer, Leonard Joseph; Dwyer, Walter Anthony; McRae, John Neil; O'Mahony, Gerard (Gerry); Priestley, Charles Henry Brian (Bill); Whittingham, Herbert E. (Herb)


Gibbs, W. J. 1999 'A Very Special Family: Memories of the Bureau of Meteorology 1946 to 1962', Metarch Papers, No. 13 May 1999, Bureau of Meteorology

© Online Edition Australian Science and Technology Heritage Centre and Bureau of Meteorology 2001
Published by Australian Science and Technology Heritage Centre, using the Web Academic Resource Publisher
http://www.austehc.unimelb.edu.au/fam/1070.html